punkrockhardcorefolketc
18 mars 2008
Alors voilà. L'entrevue avec Blacklisted qui va sortir très bientôt l'album hardcore le plus excitant que j'ai entendu depuis très longtemps.
Les premières fois que je les ai vu à l'Inco je les trouvais ordinaire. Je veux dire, ils donnaient une sale performance mais musicalement je trouvais ça correct. Tout simplement. Plein de monde que je considère connaître à fond le hardcore trippait sur ce band. Mais tant qu'à moi je pouvais tres bien continuer à écouter Buried Alive et ça faisait très bien la job. Je les ai vu un couple de fois et prté attention à ce qu'ils sortaient quand même mais mon opinion est pas mal toujours resté le même. Jusqu'à temps que je vois le cover et le titre du nouvel album. Heavier Than Heaven, Lonelier Than God. Comme si juste ce titre était assez pour changer mon opinion du groupe. Puis j'ai entendu le premier extrait. Wow, c'est complètement différent que tout ce qu'ils ont fait avant. Un son ben plus sale et émotif. Il y avait un vibe Converge/Unbroken très dark que j'adore.
Puis j'ai entendu le stream complet et j'ai compris qu'il y avait définitivement de quoi hors de l'ordinaire qui resortait maintenant de ce groupe.
Hardcore for the hardcore
First of all, let me start with the thing that intrigues me the most about the new record. Explain me the signification behind a title like Heavier Than Heaven, Lonelier Than God. Why such a title?
Well « Heavier Than Heaven » was the name of Nirvanas first European tour with the band Tad. « Lonelier Than God » is a lyrics from the Hum song « Suicide Machine ». I put them together because for personal reasons they make a lot of sense to me. I've stated why in many interviews, I was thinking about all the books I read that Henry Rollins wrote and thinking how he tends to use the word « Heavy » while describing things, emotional things. I feel like the word « Heavy » is a powerful word. Blacklisted gets lumped into the category of « heavy » bands, but only in sound. I wanted to transcend that into a state of emotional « Heaviness » and feeling. I wanted to be seen as more then just some « hard band ». I am far from a hard person so why portray my music as that. At the time the record was being written I was working in a thrift store dedicated to aids research. Mostly I would sit upstairs and read old back issues of Spin and Rolling Stone and random books I found. One day I came across an old back issue of Spin with Noel Gallagher of Oasis on the cover. Underneath his photo it said « Louder Than Bombs, Bigger Than God, Mad As Hatters ». That right there inspired me for an album title. Almost immediately « Heavier Than Heaven » came into mind. It wasn't until much later I was listening to Hum and put it together with that line « Lonelier Than God ».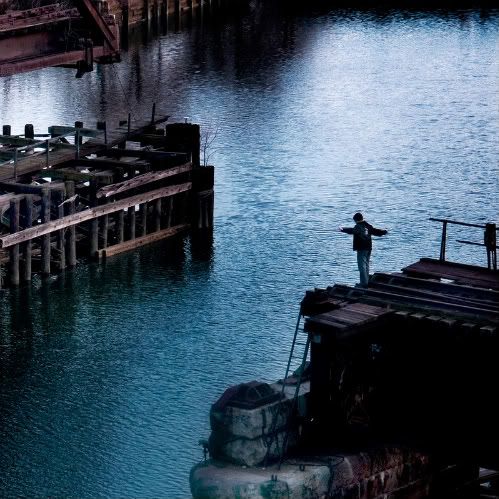 What is the picture of the cover? Is it a picture that was taken only for the cover or it's a real shot that you found and decided to use? Is it representing someone about to commit suicide or there's another way to see it?
That photo was taken by Melissa Farley (www.melissafarley.com), a really talented photographer from the Philadelphia area. It was taken specifically for our album. As far as what the person is doing in the picture, you would have to ask Melissa. She was sent the lyrics to the album and the music and that is what she came up with. She took an individual picture for each song and a cover photo. It's her contribution to the band. Instead of playing an instrument on the record she did the photography based off what she felt from the music and lyrics.
What was the mindset in the band at the time of writing this record? Was it any different than your previous records in term of what you were living in your personal lives and as a band? Would you say you did exorcise some demons on this new record?
The mindset was to write an album. It was all that we had in mind. We wanted to write an album that people could identify with. Not because it was « cliche » but because it was a growth, a step in whatever direction it is we are headed. We hoped people would appreciate that development. We experimented with some sounds and added a lot of new elements in Blacklisted. Our personal lives are clearly reflected within the album, but only because the band is such a huge part of our lives that it has almost become our « personal life », its what we identify with when we are feeling sad, happy or depressed or whatever. We write music to keep a balance, I think that is what the album represents. The balance to keep yourself on your feet and the growth to move forward.
The sound on the new record is a huge departure from your previous stuff. I mean, it's still hardcore but there's definitely more of a Convergish vibe to it. Did your musical taste simply changed and you needed to change your approach in order to remain motivated in doing music?
We are always motivated to make music. That's what we do. You could lock us in a room for 2 hours with musical gear and we are going to come out with songs. Our music tastes expanded but only because more albums came out, we have been exposed to more. But we have always been a band that was in to a huge variety of music not just « hardcore ». With that said, we still listen to hardcore regularly in our lives and in the van. We just basically wrote an album we wanted to write. That is what came out of us.
How does working with someone as Kurt Ballou influence the final product of a record?
I don't know if working with Kurt influences us. Converge as a band has been an influence. But more so how they handle things and the approach they take. Not so much « musically ». Going to Kurt is like going to any engineer. We were just lucky to have a previous relationship with him and be familiar with his musical catalogue. However, if we were to propose to Kurt that we wanted to have such and such a part that was like Converge or something along those lines he would hear us out and maybe try to help us go in that direction but with our own sound. He is big on creating your own sound to the best of your abilities. Which is something that he really got out of us. I would say he got the best sound out of us maybe far beyond our actual musical capabilities. He is a great person to work with.
You have a blog going on for this band. And the posts are always very long and deep in thought. Is this blog almost a personal archive for you to remember what went on through the years or it's really something necessary to express yourself without any kind of time or structure barrier?
The blog was created to blur the line of « artist » and « fan ». In recent times in hardcore it seems like that is a huge thing, More band members feel they are « above » the people that come see them. That is something that I personally refuse to take part in. So the blog is a way to have me (or anyone in Blacklisted if they wanted to) write about what is on their mind and discuss it with people who are into the band. I mostly have concentrated on all things « Blacklisted » but once things calm down with the record coming out I would like to concentrate on just things going on in my life, talk about books, movies, records, etc. Just have it be a forum for people to talk and not be like a normal « hardcore message board » with all the pettiness. It's more of a controlled environment for me and I really dig that.
What changed within the hardcore scene you see every day since you started? Is the excitement still there as much as the beginning? Is the goal every night still to «bring the mosh» and the rock? Is there anything else a hardcore band can hope to accomplish in a live show anyway?
I think there is plenty more a band can hope to accomplish live. Honestly that isn't ever on my mind to bring either of the two things you mentioned. I hope that people see the honesty in your music and performance. We « go off » when we play but it's not a controlled going off where things are predictable. That is something I hope transfers the unpredictability of hardcore. I don't care if people « mosh » or whatever. As long as they are just doing what they feel, what they want to do, with no limits. I think that as long as that happens and continues to be, the excitement will always be there
Blacklisted started in 2003. I guess you've already accomplished much more than what you've ever hoped for. So many things can happen in 5 years in the independent punk/hardcore scene. How this thing that we call hardcore changed through these five years?
I think hardcore always goes in waves. It's not so much that it changes. It just fades in and out. There is always going to be music within the genre that is appealing. You just have to sift through it all and find out what you like. You can't really follow the waves you just have to take it and adapt it to your life as you see fit. For Blacklisted, hardcore has been such a huge thing in our lives that it's always exciting and great for us. So we don't see the negative side that often. We worry about Blacklisted. Do what we feel, listen to what we like and just hang out.
Is hardcore a violent movement?
I think very much so it is. Hardcore is a very emotional thing. It's very volatile but still fragile. It's very in your face. To be involved you have to be very aware of yourself and those around you. It's an open forum to express whatever you want. It calls for change in a lot of cases and I think anytime that is at stake a certain « violence » looms.
If you could drop everything right now, without any consideration of money, where would you live?
I would live in Philadelphia. Where I do live. Or maybe Ghent in Belgium. I'd get to hang with Bjorn from Rise and Fall everyday and that is alright with me. Plus it is one of the most beautiful cities in the world.
You said in one of your blog entry that if it wasn't for this band, you wouldn't really want to be on this planet. So I guess creating some kind of art is what keeps you going. Do you work on any other kind of music/art than Blacklisted when you're not on tour? 'Cause I guess this band takes some breaks at some points.
I have ten million other bands in my head. Songs written, album titles, song titles, full albums written. My mind is always working in a creative way musically. I would love to do another band. Something a lot different than Blacklisted. We will see what the future holds.
www.myspace.com/blacklisted
imwithblacklisted.blogspot.com
www.deathwishinc.com