punkrockhardcorefolketc
1 mars 2008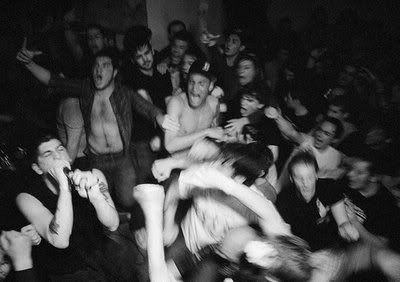 MLIW était de loin mon groupe de hardcore moderne favoris. La première fois que je les ai vu à l'Inco à l'été 2003 j'en revenais juste pas. L'expression «un mur de son» s'appliquait parfaitement à la situation. J'avais jamais rien entendu de ce que le groupe avait enregistré. Simplement entendu parlé avec beaucoup de bien. Je me rappelle encore parfaitement du moment où les premières notes sont sorties de l'ampli. C'est ce soir là que j'ai mis la main sur l'album My Love. My Way. Tabarnack que ses paroles et le son particulier fittaient avec ma vie. C'est pas nécessairement descriptible mais il y avait un sorte de mal de vivre et d'ennuie constant qui refletait vraiment ce que je vivais.
Je n'ai pas vu MLIW si souvent que ça. 3 fois environ. Ils viennent d'annoncer que la formation allait faire une dernière tournée avant de jouer son dernier show à Marshalltotn, Iowa le 26 avril. J'espère vraiment allé les voir à Syracuse. Il y a avait vraiment quelque chose de magique et brillant dans les paroles de ce qui aura été, selon toute vraisemblance, leur dernier album Midnignt In America. Le genre d'album sur lequel je crois qu'on pourrait écrire un mémoire de maîtrise.
J'aivais déja essayer deux fois de faire des entrevues avec MLIW mais sans que ça se concrétise pour différentes raisons bidons. J'ai donc envoyé quelque question à Jeffrey Eaton, étant donné que je voyais bien que c'était pas mal ma dernière chance, et le lendemain j'avais les réponses. Il n'a pas fait de son mieux c'est clair mais je ne le blamerai certainement pas.
Merci pour ce que vous avez fait les boys.
Where did you took the crest logo ?
It was lifted from somewhere. I believe Scandinavian. It's really lame and meaningless I always hated it. I didn't know that it wasn't original when it was used on My Love. My Way. and then I was convinced to use it in the witness layout as well which was my mistake. We finally dropped it though. I think it's cool when a band has a logo…but we never really had one as far as I am concerned.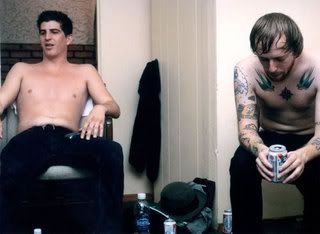 You were featured in VICE Magazine in the Poverty ISSUE. The title to your article was «Choosing Poverty». Do you think that's accurate about you? What do you think of that publication?
Haha. I don't know. It was strange. Someone from Vice got ahold of harm someone and he kinda set that thing up. I mean…I spent 6 years playing in a touring punk band and did it full time for over 2 years…that's pretty much choosing poverty! I don't really have much of an opinion on it. It was somewhat amusing I guess.
«Useless Generation»…Are we really in a period where we feel there is no magic. Our life is so simple and at the same time boring? You have a bachelor in Sociology if I'm right. Do you use it professionally? If not is it the reason why you feel part of a useless generation?
I have a degree in sociology and I don't use it professionally…but I don't think that has anything to do with anything. It's just singing a song against your generation and the ones coming up below you cause you are sick of their boredom and apathy and worshipping of materials and celebrities and money.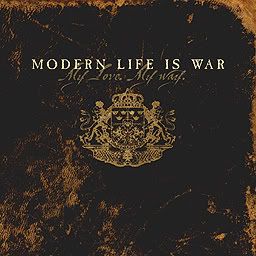 My Love. My Way.What does that sentence means to you?
That I am an individual and I am my own master. No one or nothing can tell me what's right or wrong or moral or immoral.
«What the fuck are you gonna do kids. Still rattling at the chains of the gates of the world.» Can you go a little deeper about what you meant with that.
It's about the desire to feel like you belong in this life. Trying to decide whether you are going to play their games or not. Being an outsider is lonely.
Is America boring ?
No, I think America is quite exciting…more exciting than Canada anyways!!!
You used old images and clock and that kind of stuff in your 2 first records booklet. Is there a point to it ? Is it about the time passing by that won't come back and that we don't take advantage of ?
Yeah, I wanted the whole layout to be about time and direction. Time rules all.
Midnight In America…Is midnight the beginning or the end of the day. Is America failing asleep or about to wake up ?
It is the beginning and the end. It's asleep right now but I hope that big changes are just around the corner.
Bugsy Siegel is on one of your t-shirt. How does the story of Bugsy relates to the one of MLIW ?
Cause Bugsy musta been thinking about how life is war the moment before he was shot. I stole it out of Hollywood Babylon by Kenneth Anger.
You pay tribute to Bukowski, Rimbaud, Strummer, Miller and other in the song These Mad Dogs of Glory. In it you say «It's hard to imagine. It's hard to conceive. Your abuse. Your failures. Your boredom. Your years of uncertainty. » Are you a mad dog of glory ?
Nah, I haven't earned it quite yet.
«We're gonna live this life like it's our last chance.» Is it something you accomplished through playing in MLIW ?
Yes, for the moment…but it's gotta continue in other ways now.
«So many children raised on welfare and TV. It's easy to see how the circle remains unbroken. And I am one of the lucky ones…» How sad is it that some people will never get out of that circle. How can you get out of it? Is it basically only by accident. When you realize that there's a whole world out there waiting to be discovered. Just like a boy from Marshalltown, Iowa fall on a Rancid song on TV while he should be in bed ? Does the fail in the average American lifestyle can only be found by «error» ?
I don't know if I would describe that as the « average American life » but it's one that exists all over the country. I was raised in a good home so it's different for me. I don't know how a kid can break that circle….if there was a foolproof plan then everyone in those shoes would get a letter in the mail with instructions. It's just up to an individual being able to see a slightly larger picture of the world than the one they have been given and then having the motivation to change their lot in life.
Is Barack Obama the light at the end of a long and dark tunnel for America or if Republicans and Democrats are the same shit with a different name ?
Often times I think it's same shit different name…but Barack Obama gives me a ton of hope. Young, gifted and black. I would like to think that an America that would elect a young smart black man from the Midwest is ready to start to make some serious changes with foreign policy, health care and education.
Do you have another artistic project that will keep you busy after the last tour dates ? What do you plan to do after MLIW? Is your future more unwritten than ever ?
I will be doing a lot of writing and moving away from Iowa and starting another band. Nothing is set in stone quite yet…still in the process of thinking about it and making plans.